vIRLs are here on OPSkins.com – and it's a game-changer. Now you can buy, sell, and swap authentic merchandise instantly to anyone in the world. This has never been possible until now. Collect and resell stuff like sneakers, apparel, and electronics – without the hassle of shipping or storage. Sell instantly. Trade instantly. Profit instantly.
So how do vIRLs work?
To make it easy for you, we've outlined the entire process from start to finish.
Create an account on OPSkins
The first thing to do is to make sure that you have an OPSkins account as well as funds in your OPSkins Wallet. If you don't have an OPSkins account you can register for your an OPSkins account here.
Add funds to your OPSkins account
Once you have created your OPSkins account, you will need to add funds to your account which can be done on the Add Funds page. Select the amount of funds that you wish to add, choose a payment provider, and follow the steps to complete the transaction,
Visit a vIRL unboxing site and login with your OPSkins account
Now that you have funds in your OPSkins account, you can get started unboxing vIRLs! Visit any site that supports vIRL unboxings, which you can find here. You can log into most sites with your OPSkins account.
Start unboxing vIRLs!
Follow the prompts on your site of choice to start unboxing vIRLs! Every time you unbox a vIRL Box the vIRLs will instantly be transferred to your WAX ExpressTrade Inventory (an OPSkins service).
What to do with your vIRLs once you unbox them
Congratulations – you now have vIRLs! What's next? The choice is up to you – sell them instantly to OPSkins, list them for sale on OPSkins Marketplace at any price you wish, gift them to someone, swap them for other items, or redeem them to have them shipped to your address.
How to Instant-Sell vIRLs on OPSkins
The most common option is to Instant-Sell them to OPSkins. This allows you to convert your vIRLs into cash in your bank account – within seconds. To Instant-Sell your vIRLs, simply:
Select them in your WAX ExpressTrade Inventory
Click "Withdraw to OPSkins" then visit your OPSkins Inventory
You'll see Instant-Sell in green letters with two currencies beneath it, which indicate your choice of payment that you wish to receive: Wallet Funds or Operation Points (OP). Wallet Funds can be cashed out to your bank account, PayPal account, or cryptocurrency wallet. OP is OPSkins "store credit" that can be used only to buy other items on OPSkins and cannot be cashed out. Click whichever you prefer.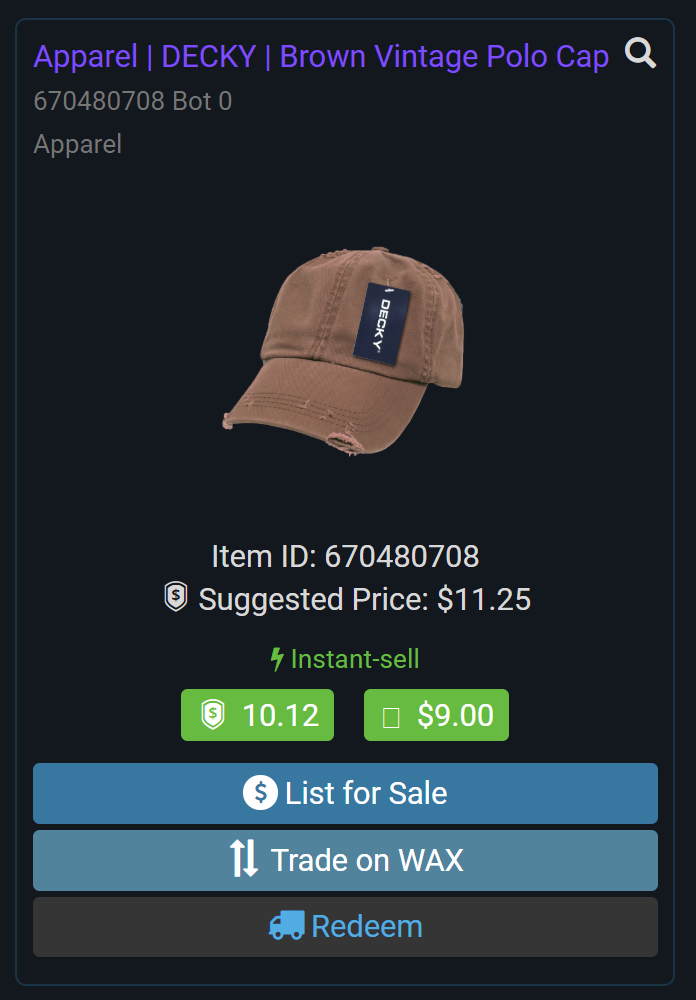 Sell vIRLs on OPSkins Marketplace
You can also choose to sell your vIRLs to a buyer and list them for sale at whatever price you want. To do this, list your vIRLs for sale on OPSkins Marketplace. Click "List for Sale" on the vIRL in your OPSkins Inventory that you wish to sell and enter your price.
Gift or trade vIRLs on WAX ExpressTrade
One of the great features of vIRLs is that you can gift or trade them to another WAX ExpressTrade user anywhere in the world – in seconds. To do this:
Have the vIRL that you wish to trade in your WAX ExpressTrade Inventory and then click trade on the top navigation (if they are in your OPSkins Inventory, click "Trade on WAX" to send them to WAX ExpressTrade)
Click Trade in the top navigation
Insert your trading partner's WAX ExpressTrade URL (this can be found in the user's Settings)
Select the vIRLs you wish to trade from your inventory and your trading partner's. You can choose to exchange vIRLs for any items on WAX ExpressTrade including WAX Stickers, VGO skins, CryptoKitties etc. If you are gifting a vIRL you will want to click the button labeled "This is a one-way trade or gift."
Enter your Two-Factor Authentication Code and click Make Offer. Once the offer is accepted, the items will be exchanged.
Redeem vIRLs on OPSkins
If you unbox a vIRL that you want to have the physical version of, you can choose the option to redeem your vIRL. Every vIRL can be exchanged for its real-life counterpart. To redeem:
Have the vIRL that you wish to redeem in your OPSkins Inventory
Click on the Redeem option
Follow the instructions to complete the shipping process like you would with any other ecommerce transaction
Once processed, you can go to your account page and check the status of your item
And that's what you can do with vIRLs! We are working non-stop to make the vIRL process as simple and as user-friendly as possible, so keep an eye out for continued improvements. Be sure to let us know what you think in the comments below or on Twitter, and as always make a Support Ticket if you have any questions or issues.
– Team OPSkins