We're giving everyone $20 in free Z1BR skins who follows the entry requirements. Sound too good to be true? It's not. 
Z1BR (formerly H1Z1) skins are now on OPSkins Marketplace! These skins are released only from Z1 Battle Royale vIRL boxes and only until March 16th @ 2pm EST, so be sure to get yours while they last.
From now until March 16th, we're reimbursing you $20 to open the Z1 Battle Royal vIRL box! Every skin has a minimum suggested price of at least $2.50, and up to $100+, so that's at least $20 worth of free skins that you can wear in-game, sell, or trade! Everyone* who enters wins!
*One entry per customer. Residents of Russia, Ukraine, Kazakhstan, Moldova, Estonia, Latvia, Belarus, and Belgium are not eligible.
Entry Details:
Record a video of yourself doing the following:


– Show that you added $20 to your OPSkins Wallet


– Open $20 worth of the Z1 Battle Royale vIRL box on your favorite unboxing site (that's 8 boxes)
– Redeem at least one skin on OPSkins
– Show your new skin off in-game
Tweet the video to @OPSkinsgo and @WAX_io with #Z1BRxWAX
Make a support ticket with the link to your tweet and we'll reimburse you the $20 you spent opening the boxes
That's it!
New to OPSkins and WAX? Here's a step-by-step tutorial on how to get started:
1. Create an account on OPSkins
The first thing to do is to make sure that you have an OPSkins account as well as funds in your OPSkins Wallet. If you don't have an OPSkins account you can register for your an OPSkins account here.
2. Add funds to your OPSkins account
Once you have created your OPSkins account, you will need to add funds to your account which can be done on the Add Funds page. Select the amount of funds that you wish to add, choose a payment provider, and follow the steps to complete the transaction,
3. Visit a vIRL unboxing site
Now that you have funds in your OPSkins account, you can get started unboxing vIRLs! Visit any site that supports vIRL unboxings, which you can find here. You can log into most sites with your OPSkins account.
4. Start unboxing the Z1 Battle Royale Box!
Follow the prompts on your site of choice to start unboxing the Z1 Battle Royale vIRL Box! Every time you unbox, the Z1BR skin will instantly be transferred to your WAX ExpressTrade Inventory (an OPSkins service).
5. Withdraw your Z1BR skins to your OPSkins Inventory
Visit your your WAX ExpressTrade Inventory and choose "Z1 Battle Royale" on the dropdown. Then click "Withdraw all items to OPSkins."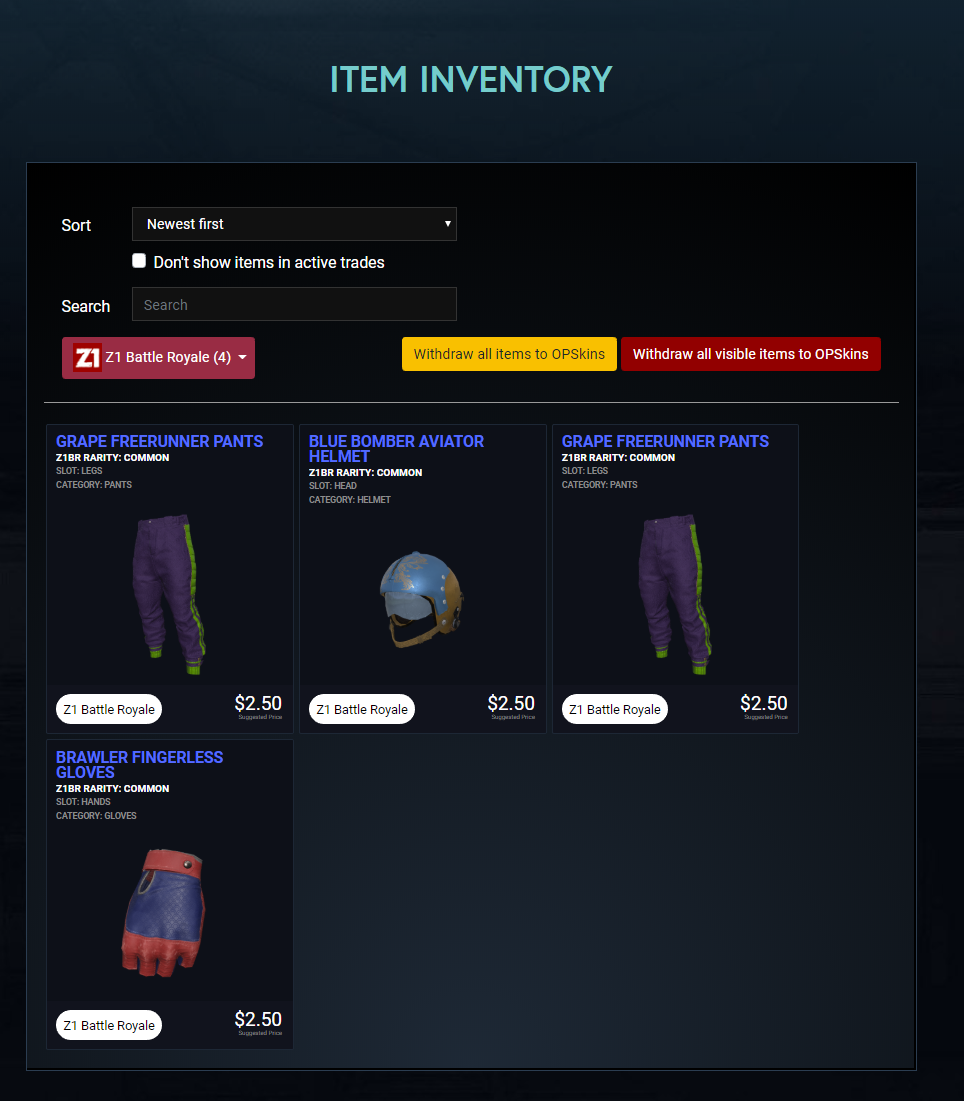 6. Redeem your Z1BR skins on OPSkins
Visit your OPSkins Inventory where you will see your Z1BR skins. Click "Redeem" on the skin you want to show off in-game for your video and follow the instructions provided. You will be sent an email that contains your Z1BR redeem code. Follow the instructions provided in the email.